Blood orange is the new orange
While orange is the leading fruit flavor for all new beverage launches over the last 5 years (Mintel, 2020), the growing consumer demand for the exotic fruit profiles has resulted in a positive demand shift by consumer social mentions at home and in restaurants for Clementine, Navel, Tangelo and Blood Orange (Tastewise, 2020).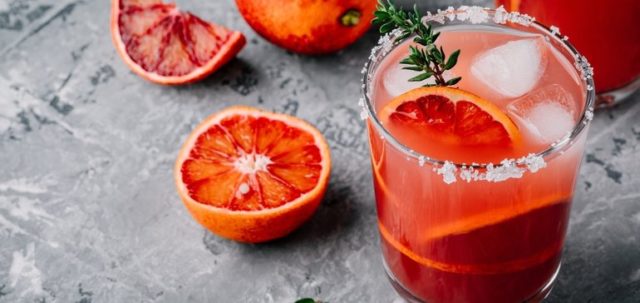 This demand is not just found orange, as there is a rise in authentic, natural, and organic varietal and exotic fruit profiles from regions all around the world. Varietal profiles like Clementine, Meyer Lemon, and Bing Cherry along with more exotic fruits like Lychee and Yuzu are adding a premiumization along with a sense of authenticity to consumers. These natural profiles require innovative approaches by procurement specialists to source the raw materials from the named fruit in order to allow for front of pack labeling for customers. The benefits to product developers are to offer consumers these natural and organic specific varietal taste profiles to differentiate their food or beverage. The current trending exotic and varietal fruit flavors in beverages and cocktails include Passionfruit, Tangerine, Acai, Bing Cherry, Pink Grapefruit, Blood Orange, and Guava.
Founded and headquartered in California, Flavor Producers has been developing natural and organic plant-based fruit flavors for over 35 years.  The art of the development of this extensive portfolio of tropical, exotic, and varietal fruit profiles includes securing sources of plant-based natural and organic raw materials including planting varietal fruits to assist in providing product developers with the emerging fruit profiles that meet consumer demand.
The certification of the organic exotic, varietal, and tropical fruit flavors requires a unique supply chain of raw materials as well as extensive regulatory approvals which Flavor Producers has proactively managed for many years. Organic flavor types and WONF's are also an option for product developers who prefer to name the specific characterizing flavor profile on their product label.  Interesting recent examples of these flavors utilized in alcoholic beverages include Organic Passionfruit Flavor WONF, Organic Pineapple Flavor WONF, Organic Acai Flavor WONF, and many more.
Along with authentic flavor profiles, transparency requests for the labeling of food and beverage products continues to evolve with consumers.  The term clean label or pantry friendly has different meanings to different consumers.  Flavor Producers has been the leader in this development with a variety of Transparent Technologies™ that meet these label requirements for transparency in taste.  The Rütz® line provides options for labeling as a result of a strict portfolio of natural or organic plant-based raw materials, essences, and extracts that enable the flavorist to select specific ingredients that combine to create a unique characterizing taste profile that may be labeled as either Natural Flavor or more transparently using friendly terms associated with ingredient extraction.  Transparent Technologies™ at Flavor Producers also includes the ISOZ® line of fruit extracts and essences. A few examples include Grapefruit, Mango, Coconut, and Yuzu extracts.
The following is a snapshot of a few of our most popular Natural and Organic Tropical Fruit profiles available for food and beverage products which includes specific selection criteria.  Visit our website at www.flavorproducers.com for more profile options or contact us at sales@flavorproducers.com to request a sample for your next innovation: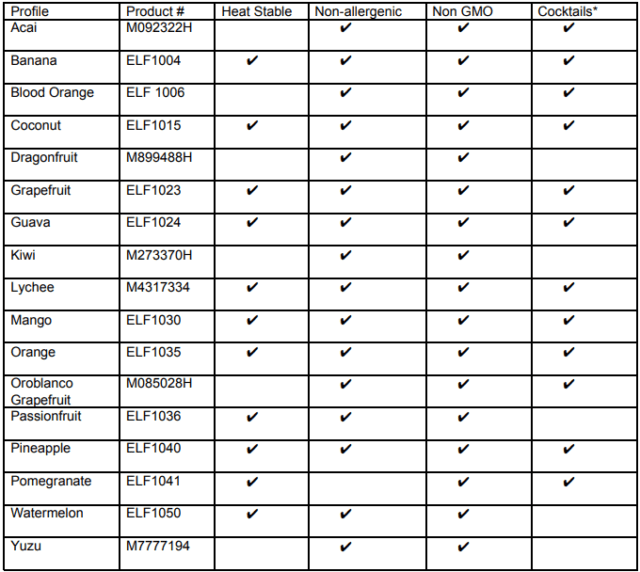 ---
Here are some Transparently Delicious® mocktail and cocktail formulations from our experienced application team:
Sparkling Blood Orange Chai Chili Tea Mocktail:  a mocktail mood enhancer of caffeine & tea giving you the boost of chili kick that bursts with blood orange zesty freshness! 
Organic Tru Bruz Black Tea Essence and Extract
Organic Sweetness Modifier
Natural Blood Orange Extract WONF
Natural Spice Chai Chili Flavor WONF
Ingredients:  Water, Brewed Black Tea Extract, Black Tea Essence, Natural and Organic Flavors, Blood Orange Extract, Citric Acid, Guayusa Extract (A Natural Source of Caffeine), Monk Fruit Extract.
Rye on the Rocks 18% ABV : a vibrant aromatic blast of spice, zing, and sour lets you know you're in the front row of a Punk Rock Show! 
Natural Blood Orange Extract Rutz®
Natural Oroblanco WONF
Natural Rangpur Lime WONF
Natural Citrus Bitters Rutz® Extract
Ingredients:  Water, Rye Whiskey, Rock Candy Sugar, Natural Flavors with Blood Orange Extractives and Citrus Bitters, Citric Acid, Kosher Salt.
---
Contact us at sales@flavorproducers.com for more options. To see the full article on fooddive.com, click here.