Shaken not stirred—imaginative plant-based cocktails
The iconic image of a martini defined by British secret agent, James Bond, as "Shaken not Stirred" was established over 40 years ago and remains popular today.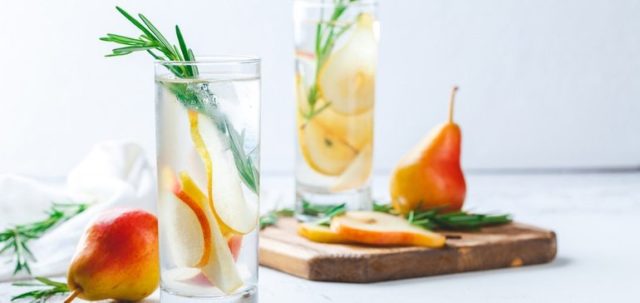 The art and craft of the cocktail and mocktail innovation in product development today has evolved from adding a twist of lime, splash of grenadine or olive juice to more exotic flavor combinations like clementine hibiscus, cucumber lime, charred pear spice and black cherry rose.
The consumer has elevated and expanded the occasions for craft cocktails and alcoholic beverage formats to broaden the categories of spirits, beer and wine to include more demand for flavored options featuring the taste of exotic fruits, herbs and botanicals. Founded and headquartered in California, Flavor Producers has been developing natural and organic plant-based flavors for over 35 years. The art of the development of this extensive portfolio includes securing sources of plant-based natural and organic raw materials like botanical extracts and varietal fruits to assist in elevating the drinking experience.
Plant-based flavors are available as natural or organic. The growth in organic alcoholic beverages flavored with organic flavors has been accelerating at a faster pace to meet current consumer demand for this point of differentiation. The certified organic flavors used for these applications require extensive regulatory approvals which Flavor Producers has proactively managed for many years. Organic flavor WONF's are also an option for product developers who prefer to name the specific characterizing flavor profile on their product label. Interesting recent examples of these flavors utilized in alcoholic beverages include Organic Elderflower Flavor WONF, Organic Guava Flavor WONF, Organic Juniper berry Flavor WONF and many more.
Transparency requests for the labeling of food and beverage products continues to evolve with consumers. The term clean label or pantry friendly has different meanings to different consumers. Flavor Producers has been the leader in this development with a variety of transparent technologies that meet these label requirements for transparency in taste. The Rütz® line provides options for labeling as a result of a strict portfolio of natural or organic plant-based raw materials, essences and extracts that enable the flavorist to select specific ingredients that combine to create a unique characterizing taste profile that may be labeled as either Natural Flavor or more transparently using friendly terms associated with ingredient extraction, for example. The imaginative taste profiles are only limited by your own creativity.
The following is a snapshot of some of these popular Rütz® profiles, contact us for more options: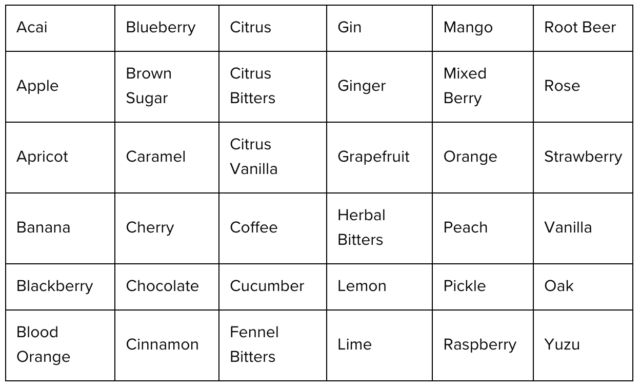 For inspiration, we offer the following cocktail ideas crafted with Flavor Producer's Transparently Delicious® Natural Flavor WONF's, Rütz®, Extractives and Essences by our experienced application development team.Transparent Technologies™ at Flavor Producers also includes ther ISOZ® line of botanical extracts and essences. Botanicals offer a product developer the opportunity to add more aromatics to a formulation. The sensory impact of both taste and smell significantly influences the consumers' experience with a beverage or cocktail. As the cocktail is prepared, the first impression is the aroma generated by the botanicals prior to tasting the beverage. The use of lavender or rosemary by a mixologist, for example, adds sensory complexity that most consumers crave today in their cocktails. The challenge is how to balance the taste profile to ensure the botanical does not overpower the flavor. Additional considerations include the type of alcohol (wine, vodka, whiskey or rum etc) when balancing the profile with botanicals and flavors that work together with the taste profile of the type of alcohol. Adding heat, spice or smoke, is also an impactful way to add complexity to a cocktail or directly to the spirit. New formulations are moving beyond spicy cinnamon profiles to hot chili pepper including jalapeño and habanero or adding smokey flavors through natural or organic charred fruit flavors or oak essence, as examples.
"From Flavor Producers with Love" : an infused Thunder ball Gun GIN Martini – with Rütz® Juniper Berry, Dandelion Leaf and Peat Moss, Oolong Tea, Angelica Root, Lemon Peel, Bergamot, Rose with dash of Citrus Gunpowder Tea Bitters for that squeeze of smoked peel finish that is shaken to the perfect chill, with a touch of gold leaf for a Golden finger clutch cocktail any Bond would be thrilled to drink!
Italian Elderberry Bay Spritzer – Italian Lemon Flavor WONF, Elderberry Flavor WONF with a garnish of Bay Leaf Essences garnish is the extra touch for an effervescent escape to the island of Capri. Shaken with vodka.
Holiday Garibaldi Herbal Orange Cocktail – a bitter Italian aperitif type of Cocktail with an array of Aromatic Herbs that also include Clove, Seville Orange, Dark Cherry, Cinnamon Bark Extractives, Rutz® and Flavor WONF's. Shaken with Gin
Bohemian Breeze Passionflower Cocktail – Key Lime Meringue Natural Flavor WONF that adds the zesty key lime note as well as creaminess without the egg to this fizz cocktail! Molasses Essence is added for that Tropical Rum feel, Passion Herb Flower Extract to ignite the inner zestfulness and a garnish to complete this layering effect, a hint of Spearmint Leaf Essence. Shaken with Rum.
 Keep Calm and Cheers to not having to Stay inside during New Years! Champagne Cocktail –Hazelnut and Champagne Grape Natural Flavors with a hint of Smoked Grapefruit Essence, Cranberry Flavor WONF, Blood Orange and Cinnamon Spice Extractives. Prepared with Champagne or Prosecco.
All spiced up Cocktail Flip – a creamy cocktail luscious enough for a cold winter's night, Orgeat with Rose Blossom and Jamaican Berry Extractives, and Bourbon Vanilla Extract with Spiced Chili Flavor WONF to warm the soul. Prepared with either warm Wine or Rum.
For more inspiration, visit Flavor Producers where you can create your own flavor. To see the full article on fooddive.com, click here.